Support Israel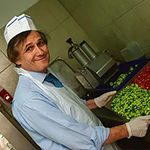 Hineni – Soup Kitchen
Israel is known for its prosperity, economic stability and high standard of living. We often do not realize that there is another side to this as well. It is the harsh reality of poverty and hunger in which hundreds of thousands of Israelis live every day.
Many of them depend on charity projects. Christians for Israel wants to help the poor of Israel, by providing them with food. We do this in partnership with the Hineni Center in Jerusalem, headed by Benjamin Philip. Your gift for the soup kitchen goes directly to the purchase of food.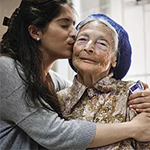 Holocaust Survivors – "I'm Not Alone"
"The Second World War ended seventy years ago. But for most survivors the Holocaust (Shoah) never ended. The trauma that the survivors struggle with on a daily basis is amazingly deep. Many of their relatives were murdered during the war. To make matters worse, there was no understanding of their trauma after the war or people did not believe what had happened. Some survivors were unable to function normally because of the deep trauma, and ended up living in poverty. Until the present day, these survivors are living with the immense pain. 'Why did this happen to me? Why did I survive this? Why?' These are questions without answers. When the end of life draws near, the war trauma often comes to the surface. The survivors have come to age and will not be among us for long, and there is a growing demand for practical assistance.
​Christians for Israel supports various projects in which assistance is provided to survivors of the Holocaust. This is perhaps one of the most practical and urgent opportunities to put the Biblical mandate of Isaiah 40:1 into practice.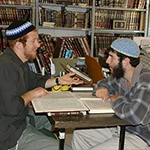 Christian Friends of Israeli
Judea and Samaria (often referred to as the 'West Bank') is the birthplace of the Jewish people. We believe that Judea and Samaria are part of Israel's inheritance. In this Biblical Heartland, you not only find the Jordan Valley, known from the stories of Elijah and Elisha, but also the graves of the Patriarchs and Matriarchs in Hebron. Shiloh is situated on the mountains of Gerizim and Ebal. This is the place where Abram entered the land and where Isaac and Jacob tended their flock. And this is the area where David dwelled before he became king. In short, this is where the Bible comes to life again!
Through our partner, Christian Friends of Israeli Communities (CFOIC), you can connect with the Jewish communities in the heart of Biblical Israel. We help to build communities in the heartland of Israel. We help to feed the poor, contribute to medical help, and invest in the future of youth who need assistance to stay on the right track. Through these projects we share a message of encouragement and comfort.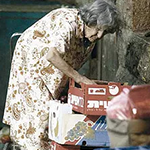 Emergency Food Parcels Ukraine"
The people of Ukraine have been severely impacted by the ongoing social unrest and violence in the region in the last years. Christians for Israel hopes to distribute thousands of food parcels amongst the struggling Jewish families, via our local contacts, especially in the east of Ukraine. These parcels are handed out monthly to Holocaust survivors, needy families, Jewish refugees, children and the sick.
Jews in Ukraine often have to make distressingly difficult choices. Will I pay for a nutritious meal or will I buy medication? Will I pay the apartment's rent or buy a meal? Will I feed my children or pay for school books? During the harsh winter months ahead, this problem will loom even larger for many of them.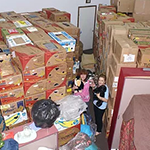 For Zions Sake"
For Zion's Sake Ministries is a US-Israeli non-profit humanitarian aid organisation, established and dedicated to assisting the needs of newly arriving immigrants. For most, starting over in Israel is physically and emotionally, as well as economically, overwhelming. After the slaughter of more than 6 million Jews in the Holocaust, the state of Israel was reborn miraculously in one day on 14 May 1948. God's chosen people began returning to their ancient homeland seeking refuge. For Zion's Sake Ministries assists those in need both spiritually and physically by providing humanitarian aid through their warehouse distribution of furniture, medicine, food coupons, and clothing. Direct financial assistance is given through our various Outreach Programmes.
Projects we support with Humanitarian Aid Outreach towards:
New Immigrants to Israel
Holocaust Survivors
Terror Victims
Wounded soldiers
Ethiopian Amharic community
Single moms and lonely students
The poor and needy in the Land
International Disaster Relief