Support Meals on Wheels|News| Homepage
Meals on Wheels Update: "running smoothly"
When the Covid-19 pandemic reached Ukraine as well in March 2020, the country was locked down. Unless you had a very good reason, nobody was allowed on the streets. The soup kitchens' dining rooms were closed as well, and especially with the Jewish elderly a slight panic broke out: "what next?"
"When the soup kitchens' dining rooms were closed during the national lockdown in Ukraine especially with the Jewish elderly a slight panic broke out: "what next?""
And that is what we were also wondering: "How to proceed further?" There wasn't much time to deliberate and an emergency action was started: "Meals on Wheels".
We drafted an action plan and all soup kitchens in Ukraine were informed. Everybody recognized the seriousness of the situation and got back to work. First and foremost, sufficient stocks were built up. Soon after the first "meals on wheels" were delivered, with great gratitude from many thousands of elderly Jewish people who were in isolation in their tiny Soviet apartments.
"With "Meals on Wheels"about 2,500 double meals every week are prepared in over 20 soup kitchens all over Ukraine"
To our amazement the emergency action went smoothly. After all, about 2,500 double meals every week were prepared in over 20 soup kitchens all over Ukraine.
Mid-December another three new towns were added, in preparation for another possible national lockdown in January 2021. A logistical puzzle, but the route and the planning are sorted out as far as possible with one or more drivers.
Every kitchen has its own menu and during Hanukkah, for example there was a little extra: deep-fried raisin buns and cards made by local Jewish children!
Take a look at the photos in the slider, the text continues underneath.
We also get a lot of grateful reactions, for example:
Raissa, 89 years
"The meals delivered at my home are really tasty! It is a small miracle for me, every time. I'm so grateful you think of me, because I am of little significance due to my old age. I pray you a good health."
Yacov, 90 years
"I am fairly aged already, but grateful that good care is taken of me. Especially with your meals that are being delivered at my home! Your support prolongs my life and gives me the strength to carry on."
Irina, 86 years
"Here in the grey east, in this war area, I am bedridden because of a chronic illness. I can hardly move, I am all alone, I cannot go out for a bit of fresh air. Every now and then there is a chink of light when a hot meal is delivered. I feel a tremendous gratitude in my heart for those who make this possible. Sincere thanks "spaciba bolsoi"".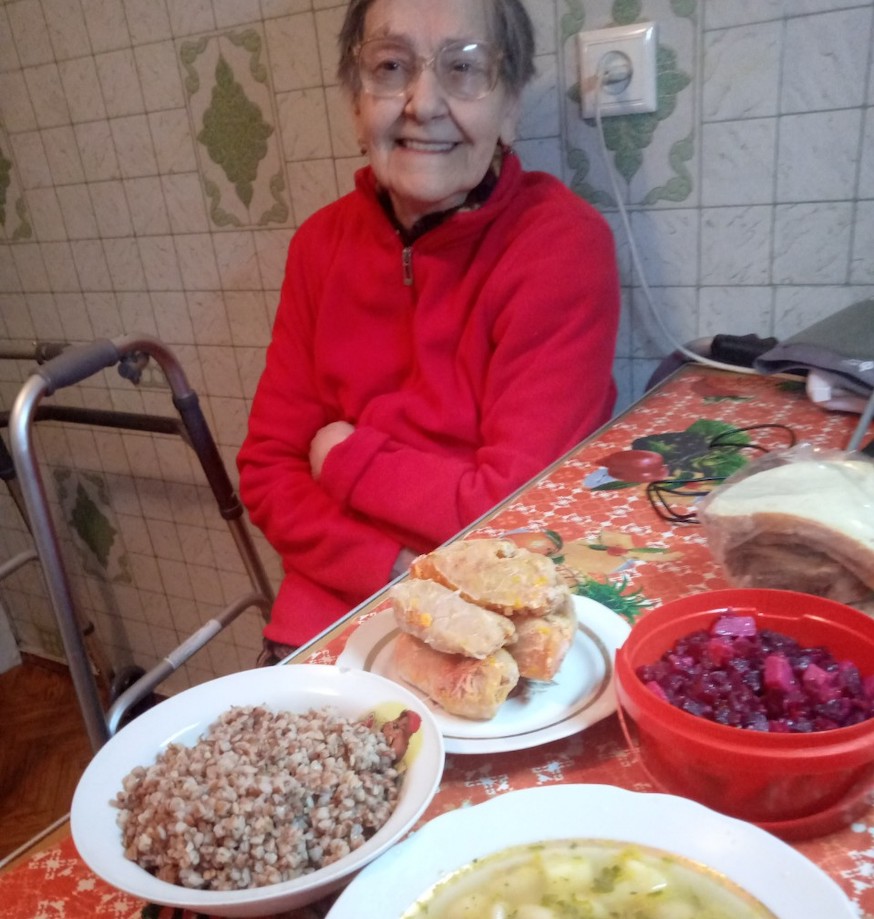 Nadezhda, 80 years
"I am grateful that a meal is being brought. I have not many reasons to be happy, because recently I had to bury my only daughter Larissa. Now I am all alone…"
The last "meals on wheels" of 2020 are delivered at the homes on December 30 and 31. In 2021 too, we will continue as before!
A meal brought at the homes really makes a difference! We hear that time and again!
Christians for Israel supports Jewish food services in Ukrainian communities. Providing for the poor members of the community, often Holocaust survivors. During the corona restrictions they receive two pre-packed meals with each delivery. The meals are prepared by the local soup kitchens in the Jewish communities.
For € 5 or US $ 5 a nutritious meal will be delivered at the home of an elderly member of the Jewish community in Ukraine.
Will you help?
Donate in €
Donate in US $