Support Israel
Time to say Goodbye and Welcome!
Dear friends, sorry for the long pause without any news or articles. Summer is a very busy time for the "First Home in the Homeland" team. Just like primary school teachers we are saying goodbye to the families who have just completed the program and are starting to arrange everything for welcoming new olim. There is no "standby", this is the endless process, it is like the wheel that never stops.
Honestly, it is hard to say what is more exciting – to see how our graduates are starting their new lives or how our applicants are preparing for taking their first steps in Israel.
This August we are planning to open the doors for almost 100 families from different parts of the Globe – FSU countries, Brazil, Hungary, Germany, et cetera. All of them have different backgrounds, speak different languages but have one common goal – to learn Hebrew to become a real Israelis! Undoubtedly, we will help them to achieve that goal!
"Many of them don't know how … but eventually, they get more than expected!"
But there is something more important for us in this process. At first, people choose the program because they want to receive support and assistance. Many of them don't know how to find housing, how to solve the problems with documents, how to learn the new language, how to help children to adapt… But eventually, they get more than expected. They are coming Home, the place where they feel safe and calm.
Every year we receive dozens of reviews and letters of gratitude. And on the eve of the new summer term, we would like to share some of them with you.
Single mom Ksenia and her son Boris (15).
They came here with almost 8 months ago, in November 2022. Before aliyah they lived in Moscow where Ksenia has worked as a psychophysiologist for the last 20 years. Therefore, the best solution was to accommodate them in kibbutz Merhavia where the special program for medical workers has been running for a long time.
Boris, Ksenia and her 68 y.o. mom visiting them in kibbutz Merhavia, caravan number 6. Ksenia hopes she will bring her mother to Israel as well
Even though aliyah is always not an easy path for single moms, Ksenia managed with all the difficulties, also because she made the right decision when she called us.
This August her brother will come to Israel with his family. We are waiting for them in the beautiful kibbutz Lohamei Ha Getaot which is in the very North of the country.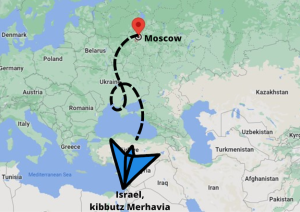 Here is how Ksenia recalls her living in kibbutz Merhavia.
"Today when locking the door of my "caravan" number 6 in kibbutz Merhavia, I have recognized that it was my real First Sweet Home in the Homeland. It has been a real "soft absorption", soft landing in Israel thanks to the Jewish Agency for Israel, all the people who support it, thanks to the "First Home in the Homeland" program, its coordinator Anna, my dear classmates, neighbors, and friends. I do appreciate everything – from the first morning and yours "let's have a cup of coffee!" to the final "how will you manage to load your bicycle into the car? Let us help you!" And you did so. Honestly, we lived through many things here which I will keep in my heart forever."
"As they say, "the darkest hour is nearest to dawn""
Oleksandr, Natalia with their children Maria (6 y.o.) and Mark (8 y.o.).
The family fled the war in Ukraine in 2022 and reached Israel via Poland. They have made aliyah under the "First Home in the Homeland" in August and joined us in kibbutz Ashdot Yakov Meuhad.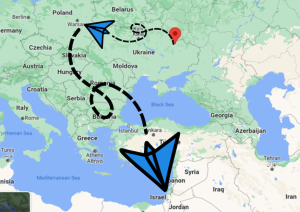 "We were forced to escape from Ukraine because of the war. Even though I always knew that Israel was my second home, it wasn't an easy decision for me. I was worrying about my wife and children. But as they say, "the darkest hour is nearest to dawn". For my family "First Home in the Homeland" was the best choice.
Thanks to the nearby location of the school and the kindergarten the children could get there on their own. Also because of our Hebrew classes (Ulpan) which is different from Ulpan in the city. We passed our "bet-level" exams with flying colors. And that took us just 6 months. I have heard many stories about studying Hebrew in the cities where students fail to complete the first stage for years.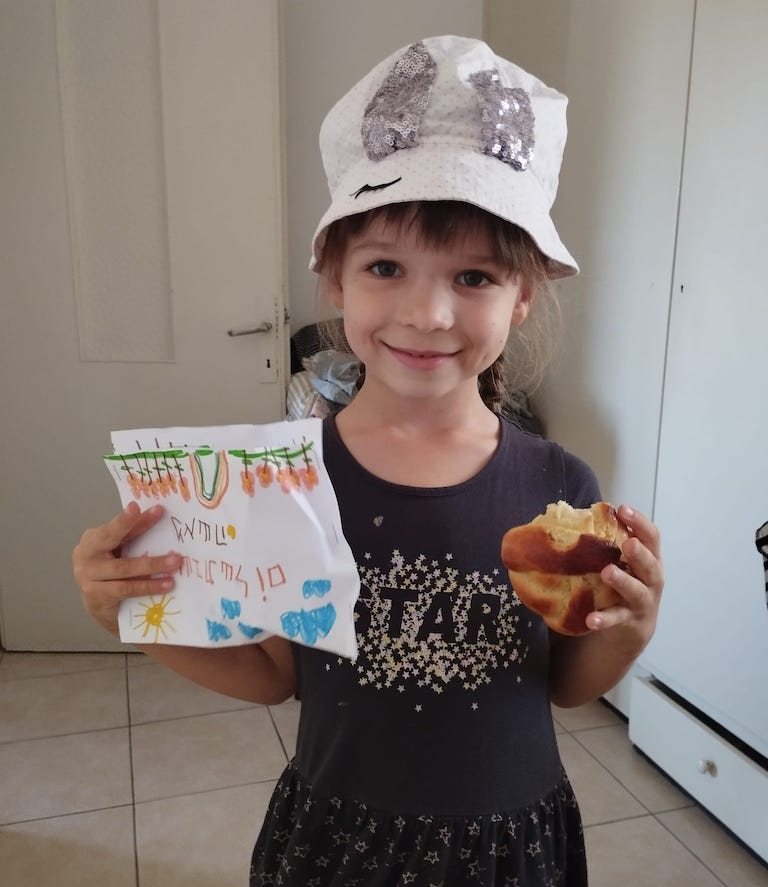 And finally, life in the kibbutz is so unique, that we are somewhat reluctant to relocate. Thank you for that wonderful time, without you, our life here would have been very different!"
We on our part would like to say thank you, to our dear friends from Christians for Israel, who like wizards make our participants' dreams about living on the Promised Land come true!
First Home in the Homeland team
Please support the "First Home in the Homeland" Project. Any amount is welcome!
Assisting a family in the "First Home" program costs € 230 euro / US $ 250 a month.
Support in €
Support in US $