Support Israel
The Frenkel Family
"For I know the plans I have for you," declares the Lord, "plans to prosper you and not to harm you, plans to give you hope and a future."
Jeremiah 29:11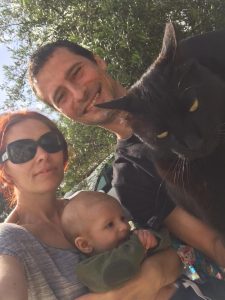 Immigration is always a difficult decision. What drives people who decide to immigrate not with one or two, but with four children? Among our olim there are such people. This is the Frenkel family: Dmitry, Irina and their children.
They were supposed to make Aliyah in the fall of 2019, but when we called them in summer, two months earlier than they expected, and said that it was possible to go to Israel in two weeks time, they immediately packed their bags and hit the road.
Their way to the homeland was not easy. In Kiev they had everything: an apartment, friends, parents, memories. But in a way that is hard to explain, they "felt that nothing held them there."
When the decision to go to Israel was made, they applied for a visa. However, they were refused. The Frenkels did not give up, and with guidance from The Jewish Agency they continued to collect documents in order to return to Israel. They received the desired visa on the second attempt when they came to the consulate fully prepared. They even took Dmitry's mother with them, who told the council about their sufferings in the past just because they were Jewish.
For example, when Dmitry was young, he fell out of bed and hurt himself. Overwhelmed by fear, the mother took the sobbing baby and rushed to the hospital. People were crowding around in the hospital, doctors were passing by in surgical coats, day turned into night, but no one came up to them. "No one will see you because of your Jewish family name," the doctor told her. "Go back to your homeland. We don't need children here with such last names". She heard this hate again when she came to enroll her son in the nursery school. As you understand, they didn't grant admission.
Unfortunately, these were not the only cases of discrimination. Dmitry's parents are still "afraid to pronounce their last name".
But after all this suffering, the Frenkel's now received a unique chance: to go to Israel via the program "First Home in the Homeland", which made sure that all four children were enrolled in schools and kindergartens even before their arrival.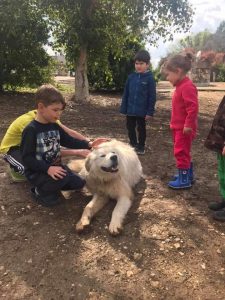 Going to Israel with this program became another incentive for moving. "In Ukraine, it is difficult to raise four kids, but in Israel we feel safe. Children will receive education; they will not starve. And what is even more important, the education system in Ukraine makes the children do things that are insane! For example, a teacher at school forced our son to write with his right hand, although he is left-handed. Entering school or kindergarten, one could hear the head teacher screaming. There was no warm interaction between adults and children. And in Israel there is such a warm, home-like environment. The child is in the spotlight. There is no idol worshipping of teachers. They are friends of the children."
After making Aliyah, their faith in Israel's education system became stronger as Irina experienced the Israeli education system first hand. She worked for four months in the Kibbutz kindergarten as an assistant to the teacher and saw that children and adults have excellent relations.
"The First Home program helped us a lot. We are glad that we took the right decision. The kibbutz offers freedom and security; there are kind and hospitable people." When they first got to the kibbutz, straight from the airport in the middle of the night, they were warmly greeted by Gregory (a First Home volunteer), escorted to the apartment prepared for them. In the apartment the beds were already made up and the fridge was filled up with food. "They took care of us in such a thoughtful way. And they still do. We feel like a part of this community. People even helped us finding our first job. It is incredible!" – said Irina.
What has changed in the life of the Frenkel family since their Aliyah? During their time in Israel, Dmitry and Irina finished the Hebrew course, and the children adapted perfectly to Israeli reality. They go to school and kindergarten, make new friends and speak Hebrew fluently.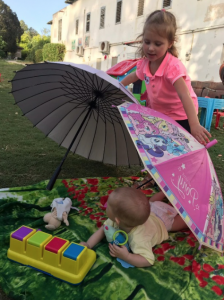 The family returned to its roots. They again began to celebrate all Jewish holidays (as their grandparents once did). But the most important gift they received for Hanukkah. On December 22, 2019, on the first day of Hanukkah, the fifth child of Dmitry and Irina was born.
Dmitry is now the sole breadwinner of the family. He installs solar panels. And Irina takes care of the children. "How does she manage to cope with five kids?" – you may wonder. The children are very friendly, independent and help each other: they do the cleaning, play with the baby, wash the dishes and set the table. In addition, two of the older children study in a youth village and only come home for the weekend. But the most important secret of Irina is to devote at least five minutes a day to herself. Having a cup of coffee and reading a book in silence is the best remedy for stress.
The Frenkel family is very thankful for the help they received through Christians for Israel. They wrote a touching thank you letter, filled with gratitude, and their 4-year-old daughter Alice drew a cute drawing. 
The Frenkel family has ambitious plans for the future. In Kiev, they had a small but beloved business – the club "Archery tag". This is a family and team game in which the task of the players is to hit the enemy players with an arrow or knock out a special target on the opposite base. They were one of the first to develop this business in Ukraine.
The Frenkel family believes that in Israel they will succeed. As it is said in Job 8:7: "Your beginnings will seem humble, so prosperous will your future be". We also have no doubt about this and wish all the best to this wonderful family.
Please support the "First Home in the Homeland" Project.
Assisting a family in the "First Home" program costs € 230 euro / US $ 250 a month. Any amount is welcome!
Donate in €
 Donate in US $