Support Israel
Shabbat In Siberia – End of November 2019
"Like cold water to a weary soul is good news from a distant land" (Proverbs 25:25).
In Israel when it is very cold, we usually say "like in Siberia". The real Siberia met us with minus 32 degrees centigrade, quite a challenge after the warm Israeli autumn. But it was worth it! The aliyah seminar in Novosibirsk is held by the Jewish Agency for Israel (JAFI) every year. This time the cities of Omsk, Tomsk, Barnaul, Kemerovo and Krasnoyarsk could also join. Jews from these Siberian cities came together to hear about the Land of Israel and about aliyah.
Jews were banished to Siberia as a punishment during the Soviet times or fled to Siberia of the pogroms at the end of the 19th, beginning of the 20th century. Now the big Siberian cities have numerous Jewish communities, and even here, more than six thousand kilometres away from the Land of Israel, Jews still turn towards the Temple Mount and repeat "If I forget you, O Jerusalem, let my right hand forget its skill!…"
Three days of intensive lectures, meetings and personal consultations didn't leave any question unasked. Hopefully we answered most of them adequately, some about the practical steps of aliyah, others about Judaism in general.
"Our daughter is almost eighteen, she doesn't want to make aliyah and even hear about Israel. She started her studies at the university and is a pretty independent thinker. We feel ready for moving to Israel, we want it from the bottom of our hearts, but as every parent, our hearts will break if we leave her here alone." What would you answer? Sometimes people need a justification for their decisions, do we have the right to provide that?
"Fleeing from the Holocaust my grandparents got to Siberia, here they changed their names and surnames, so that no one would guess they were Jewish. Both of them passed away some years ago, and I have not enough documental evidence of my Jewishness…"
"Two of my boys are already in Israel, one in the army, the second one is graduating. I am all alone here, my turn to go to Israel has come".
Every participant of the seminar has his or her own story, sometimes tragic, sometimes happy, but always connected to the small piece of Land on the other side of the globe.
These people cannot afford to go on vacation to Israel by themselves and see how it looks and feels to be there. So, when they decide to make aliyah it is mostly a decision purely based on the belief and trust that this Land is the promised one and can become their new home. Just imagine what a courage it takes, not only because of the difference in nature, weather (from minus thirty to plus thirty!), language, habits, but also because of the finality of this step. Such a decision is not readily reversable, especially owing to the great distance.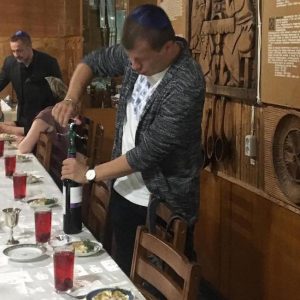 Shabbat in Siberia, with snow outside, Israeli wine and dates, Siberian bread and salt… When I went to the airport, the thermometer outside showed minus 15 degrees centigrade, a lot warmer than three days ago. Surprisingly I felt so warm here. Hopefully we succeeded in bringing to this Jewish community not only some dates and sun from Israel, but also some encouragement for their future.
Do you remember my story about the Far East – Habarovsk and the Jewish district of Birobidzhan? In November 2019, a family from this region made aliyah to kibbutz Elifaz near Eilat to find their First Home in the Homeland. We hope and pray that more Jewish families from Siberia will also come soon!
Without your support, spiritual and material, it couldn't come true. Thank you for standing with us!
We believe that many participants of the recent seminars will make aliyah and join the First Home program in one of the forty-six participating kibbutzim all over Israel. Maybe you will visit us one day and meet one of these families?
Orly Wolstein
Jewish Agency for Israel
Please support the "First Home in the Homeland" Project. Any amount is welcome!
Assisting a family in the "First Home" program costs € 230 euro / US $ 250 a month
Support in €
Support in US $