Support Israel
Meals for the Poor in Jerusalem
By Christians for Israel International.. Contrary to other countries in the world, Jerusalem, the capital of Israel, is not the richest, but the poorest city of the country. Numerous minorities live in Jerusalem.
Poverty often passes from generation to generation. Decades ago, families often came to Israel without a penny; now they still have no money to spend.
At the Hineni Soup Kitchen in Jerusalem people in need can come for a daily hot meal. The vast majority of visitors are elderly. Among the visitors are those who fled the former Soviet Union years ago and now have financial problems because they do not have a pension. By offering them a meal, these people have money for their medication. Other visitors include war veterans, homeless people, and Holocaust survivors. Everyone who can show they are in financial need receives help.
Food for the Soul
The meals at Hineni are fresh and nutritious, but they are not only intended to satisfy the hunger. These meals nourish the spirit in several ways. Benjamin Philip (the Hineni Director) explains: "Through giving meals, you show love to a person and help carry their burdens.
People come out of their social isolation because they can interact with others. And there are opportunities to speak about faith. Our goal at Hineni is not only to help these people in their need, but also bring them closer to the Eternal One. Together with Bible-believing friends, Jews and non-Jews, we want to walk the talk: 'Love your neighbour as yourself'"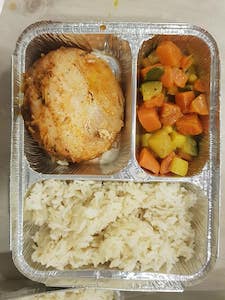 Hineni provides approximately 300 meals per day for the poorest and most needy citizens. Support the work of Hineni in Jerusalem! A hot meal costs € 5.
Donate in €
Donate in US $