Support Israel
FH Update – Flowers for Peace
Then God said, "Let the land produce vegetation: seed-bearing plants and trees on the land that bear fruit with seed in it, according to their various kinds." And it was so. (Genesis 1:11).
Unfortunately, it doesn't stop. Grief and fear have come not only to Ukraine but knocked at every door around the world. The only thing we can do at these dark times – to keep light in our hearts. Kindness eventually always gives fruits while love always gives flowers.
"The only thing we can do at these dark times – to keep light in our hearts"
It has already become the annual tradition to meet our dear friends from the Netherlands and to plant tulip bulbs together as a sign of our friendship. Every year they bring thousands of tulip bulbs to Israel and visit our kibbutzim during their "Tulip tour". However last year it didn't happen due to coronavirus restrictions, but this year we were happy to see the tour team again and show them how we live now and what has changed over several years.
We planted tulips in wonderful places in the North – kibbutz Yagur in Zevulun and Hinanit settlement in Samaria.
Yagur met us in the sunshine and the amazing view of a huge green mountain on the background, but also with smiles of our participants and laughing children who were helping us to plant the flowers.
People who came to Israel under the "First Home in the Homeland" program were telling us their touching stories that impressed us deeply. Especially the stories of olim from Ukraine, who literally lost everything but their hope.
Elena from Odessa arrived here to support her son, who already came to the country via the Naale program. Her husband and elderly parents stayed in Ukraine, which was the hardest thing to experience. But recently we got very good news from her Motherland – her husband will join us soon.
After sunset we went further and finally reached our last stop in Samaria. Because of the darkness we were planting tulips using our mobile torches. Children took an active part in the process and were helping the adults with great enthusiasm. When the job was done, we attended the Ulpan class to hear some aliyah stories.
"Children took an active part in the process and were helping the adults with great enthusiasm"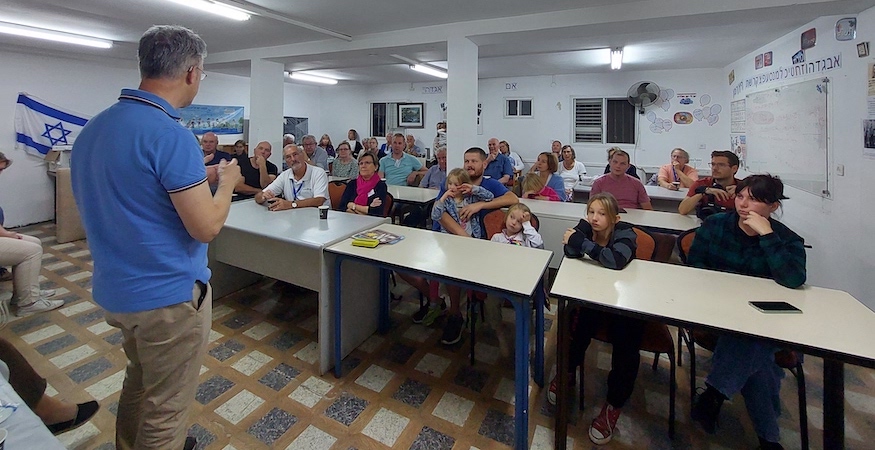 Hinanit, 2022
A very shy young lady named Yana (from Russia) started her story very timidly but did it in Hebrew, despite her coming here only 3 months ago. Her son Erik, who is only 2 years old can already speak Hebrew too. Now she has great plans for the future, namely to master Hebrew and enroll at University in Israel.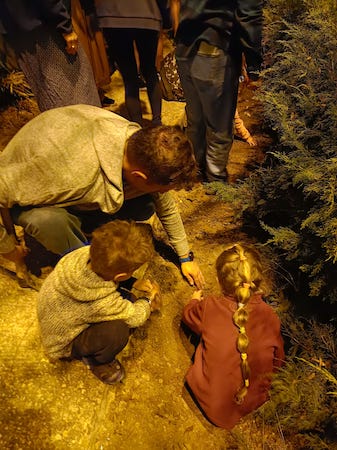 Then I asked Svetlana from Ukraine to tell us her story. That part of our meeting was the most emotional. She said how her family had come to Israel crossing different borders, how she and her child had been separated from her husband, how they lived in occupation for 6 months and that they had to spend 3 nights in the field under the open sky (children, elderly people, women).
A family from Donetsk has also faced many difficulties on their way home. But even in this situation they keep joking "Do you know, how many citizenships we have? – Four: Ukrainian, Russian, Donetsk and now Israeli". "And what is the best?" – I asked. They just laughed out.
Support and love are vital for all these people. It doesn't matter from where they came to the Promised Land. All of us, who start from zero here are like tulips which sprout from bulbs being put into soil and will give fruits and flowers after a while. And beautiful tulip carpets will remind us about our warm meetings in the North.
Please support the "First Home in the Homeland" Project. Any amount is welcome! Assisting a family in the "First Home" program costs € 230 euro / US $ 250 a month.
Support in €
Support in US $