Support Food Parcels|News
Critical need for emergency food parcels in Ukraine continues
Every few weeks we distribute approximately twelve thousand kilos of food products in one thousand food parcels. We distribute them among Jews in need in Ukraine and then place a new order.
When we delivered 130 food parcels on the 5th of August in Tulchin, where 84 year-old Rita Schweibes (who was in the Netherlands in January 2019) is responsible for the small Jewish community, she was not pleased and her expression showed it. "Why don't you come in groups anymore? Why doesn't anyone care about our story?"
When we told her that we had already needed to cancel several groups from the Netherlands, Belgium, Germany and Italy because of the corona situation Rita calmed down and understood completely. In a short video she thanked everyone again for the food parcels and for our visit.

Working Together
We had been bringing another 300 emergency [food] parcels to Lviv in western Ukraine until we were approached by a few young rabbis from Dnepr. They wanted to help distribute the emergency parcels and we replied, "Of course, why not?" We introduced ourselves to each other and loaded their van full of food parcels and our brochures.
In this way we have the opportunity to build bridges between Jews and Christians, not only with words but also by working together. We are blessed and want to be a blessing in such interactions. Meanwhile these rabbis have loaded their van full again. This time they will continue towards Chmilnitsky and Chernovtsy to distribute parcels there.
Our plan was to take a few days for a working visit to the north of Ukraine near the border with Belarus, until Rabbi Mendel from Mariupol in the east of the country called me. An important visitor is coming to Mariupol and he wants me to be there too. I am curious but it means changing my plans. Luckily that is easy to do here. On the way there or on the way back we will drop off the emergency parcels in Zaporozhe, at the request of the local rabbi.

Good News
Anemone Rüger from Germany has been back in Ukraine for the past few weeks. Together with our local colleague Alina and Carmen from the Netherlands she is visiting elderly Jews and Holocaust survivors. Unfortunately at a bit more of a distance because of anti-corona measures but they are able to be an encouragement nonetheless. At the moment they are in Poltava, after which they will travel on to Kremenchug, Alexandrie, and Bela Cherkov – remote villages. Anemone will stay as long as she can because there is always enough work to do.
Shortly after she arrived Anemone wrote, "Our noteworthy highlight in the city of Poltava was our visit to Yevgenia. She was in tears before I had finished my first sentence. 'I am so touched by your care for me. It is so rare to hear such kind words these days'."
"She told us about the difficult times she experienced as a child. She became a refugee when she was three years old. Hunger and cold prevailed everywhere they went. She never saw any of her grandparents again. They were all shot dead by the Nazi's. Now she has a fresh food parcel in her hands, together with a friendly letter from our Ukrainian team and a scarf that a friend of my mother had knitted for her."

What Else?
In the meantime the return to Israel continues as well. Last week 125 Jews left for good from Kiev headed to Israel where, after two weeks in quarantine, they will begin their lives in the Promised Land.
On the 27th of August a new shipment of 12,000 kilos [of food] was delivered and on the 10th of September we expect another 24,000 kilos. We receive many requests leading up to Jewish New Year on 19 September. We are also busy preparing a large number of food parcels to deliver and distribute to elderly Jews and Holocaust survivors in East Ukraine.
Support our food parcel campaign!
One food parcel costs 10 euros or 12 US dollars.
On behalf of the Jewish community, thank you for your support!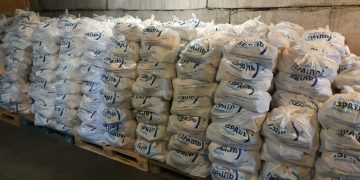 Donate in €
Donate in US $