Support Food Parcels
Moved – Update from Ukraine
Olga was our big surprise today. When we visited her the first time in August, she was very quiet and started crying as she shared her story of Babi Yar (a huge ravine on the outskirts of Kiev where more than 100.000 Jews were killed), of being in line to the execution site together with her family. A Ukrainian neighbor saved her from the column of Jewish mothers, children and old people walking to their death, and pretended Olga was her child.
When we visited for the second time with the Christians for Israel board of the German branch in October, her tears already mingled with laughing – that's how happy she was to have found a far-traveled family who poured love, gifts and blessings on her. Her little hut, however, looked like it could collapse any moment, and none of us dared to imagine how she would survive another winter there.
Now today we were welcomed by a radiant Olga – she moved a few days ago! Our local contact person had negotiated with the neighbors and found an abandoned little house, whose owners moved to the city and are glad if someone uses it. It was nice and warm thanks to the wood stove. Light was falling through the large window, and even electricity worked. Olga proudly presented her new tea kettle, which she just received via the sponsorship program.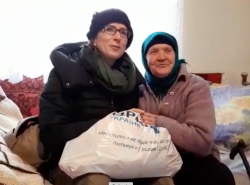 "Moi ditki!" – my children, she kept exclaiming while hugging each of us in a row. Now the gifts – two large food parcels, those should last her for a while.
Then, with a big smile, Olga pulled the photos out of the envelope. "Vse moi ditki!" she said, beaming with joy. "This one I know, and this one, and her and her – but there's someone missing, right?" Correct, the tall guy. Good that I had Markus on another photo.
Then came the cuddle blanket from her sponsor. Now Olga had tears in her eyes again. Such a wonderfully soft fabric!
Convey my greetings to everyone, Olga said. And health – I wish lots of health to all my friends! – See you in spring, then, Babushka (grandma).
Update Food Parcel Campaign Winter 2019-2020
Our team in Ukraine is currently busy visiting Jewish elderly and Holocaust survivors with a van full of food parcels. It is almost like a Hanukkah miracle! We received requests to distribute a total of 3,335 food packages before the end of December!
One food parcel costs 10 euros or 12 US dollars.