SOS Ukraine
"They simply picked Dad up and carried him"
How Anatoly managed to escape from Ukraine to Israel with the help of the Christians for Israel team.
For 85 years, Anatoly has called the Eastern Ukrainian city of Dnepropetrovsk home. Here is where he was born in 1937 during the worst times of the Stalinist repressions. Here is where he fled at age 4 together with his mother when Nazi Germany invaded his city, finding refuge in an outlying village. Here is where he worked his way up as an engineer at the famous "Zavod Petrovskovo" factory, earning the title of "Veteran of meritorious work" after completion of 60 years of service. At the beginning of March, he fled for the second time in his life – this time to the Promised Land.
I catch Anatoly's daughter by phone in a snowed-in Romanian winter resort, where she is awaiting permission to enter Israel together with her parents. Ludmila has held Israeli citizenship for more than 20 years. She made Aliyah in 2001 together with the husband and children. They now live on the Lebanese border.
"Dad fell last year and ended up with a complicated hip fracture. He had to undergo surgery four times," said Ludmila. "At the beginning of this year, I flew to Ukraine to be with my parents and take care of them for a while. Father has been through a lot in his life. He was the youngest of four. His father was a blacksmith. He was immediately drafted in 1941 when the war began. Dad's older brothers soon followed. Grandpa came back, Dad's brothers didn't – they were both killed in battle. Dad's mom escaped with him and his sister on foot, making their way to a village named Novomoskovsk. They had remote relatives there. The cities were all occupied by the Germans but out in the countryside there was a higher chance to go into hiding and survive. They lived in some kind of adobe hut. There was hardly anything to eat. Dad's sister didn't make it – she starved to death. And so Dad ended up being the only one to survive out of four siblings."
After multiple surgeries, Anatoly was put in an extension bandage, tying him to bed. The fracture didn't heal as desired. Anatoly was hardly able to walk, and the plan was for him to go back to hospital – very hard for someone like him who had always been active and tinkering with something. And suddenly the war broke out.
"When the call came from the Israeli embassy that all Israeli citizens should be evacuated without delay, all three of use were in bed with corona and a high fever and couldn't move," Ludmila reported. "I had no idea how I was supposed to transport Dad. He would never have been able to climb the steps of a train station.
"Then there were announcements in the Jewish community that there was going to be a bus. But the bus came under attack, and everything was cancelled. That happened several times. The last time we got the call at 1:30 a.m. in the night, saying we should get ready. And at 8 a.m. everything was obsolete again. That's when we thought, whatever will be, will be. We had basically given up."
Another call from the Jewish community of Dnepropetrovsk followed, advising the family to report to a certain meeting point at 11 a.m. Ludmila: "But it was 10:55! And we lived on the other side of the Dnepr! How were we supposed to make that?
"We still gave it a try and left by taxi. God helped us. The meeting point was one big chaos – refugees from Zaporozhe, Kharkov… We traveled in six busses for more than three days. It was rough – danger everywhere, roadblocks and checkpoints. And no toilet with a severely handicapped father. That was almost unbearable."
But after what seemed like a never-ending trip, the convoy finally arrived at the Moldovan border. That's where Koen Carlier, coordinator of Christians for Israel's work in Ukraine, was already expecting the refugees with his team. The border crossing must be passed on foot. Anatoly managed the distance supported on one side by his daughter, on the other side by Koen.
"Koen – a man of gold, a divine person! I will pray for this man and his incredibly wonderful team for the rest of my life!" Ludmila exclaimed at this point of her report. "Without him, we might never have arrived. The fact that my parents are still alive, I owe to him. We had no more hope. We would never have made it across the border crossing, the long way over the bridge, and then up the steps into the bus. That's when they simply picked up my dad and carried him," Ludmila said, while tears started running.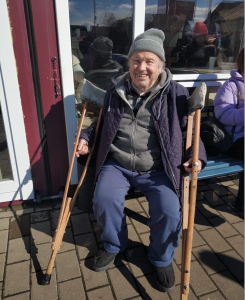 "I cannot put into words how thankful I am to Koen and his team! They have become so dear to me! I am so incredibly grateful. They are doing an enormous job, a divine work! And thanks to the team, we are now on our way to Israel!"
Anatoly's grandchildren and great-grandchildren had been urging them for years: "Grandpa, Grandma – come! At any cost, please come! We love you so much, and we want you to be with us!" This year the family celebrated the Passover feast with four generations in Israel.
"I cannot get enough of looking at the radiant faces of my parents, seeing the sparkle in their shining eyes! They want to live!" said Ludmila.
'However, the days are coming,' declares the Lord, 'when it will no longer be said, "As surely as the Lord lives, who brought the Israelites up out of Egypt," 15 but it will be said, "As surely as the Lord lives, who brought the Israelites up out of the land of the north and out of all the countries where he had banished them." For I will restore them to the land I gave to their ancestors.

Jeremiah 16:14-15