News
A year ago, Anatoly fled Ukraine. Now he is enjoying his new life in Israel.
After war broke out in Ukraine in February 2022, our local team immediately initiated a large-scale evacuation plan. Thousands of Jews could be brought to safety as a result, and most left for Israel for good.
Of course, you don't remember every refugee, but there are some I will never forget. One of them is the 85-year-old Holocaust survivor Anatoly from Dnipro (see photo).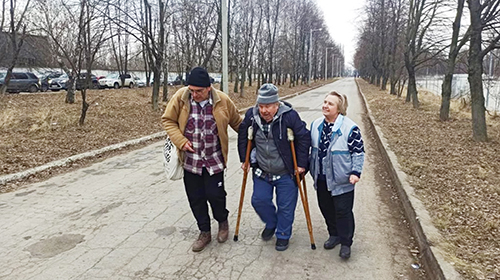 This photo was taken in early March 2022, still fairly at the beginning of the war. You can see from left to right: yours truly, Anatoly and his daughter Ludmila. We were on our way to the border between Moldova and Romania. This is what fleeing can look like.
For 85 years (his whole life), Anatoly has lived in Dnipro (formerly Dnipropetrovsk). He was born there in 1937, and the only time he had to leave, was when he went into hiding during World War II (in 1941). Together with his mother, he found a hiding place just outside the city. In early March 2022, he fled for the second time, but this time to the Promised Land.
Daughter Ludmila had been living in Israel since 2001 but had flown to Ukraine in January 2022 to assist her parents. Father Anatoly had broken his hip in a hard fall and needed surgery four times. And then war broke out. After several failed attempts to flee Dnipro, the Christians for Israel team managed to get Anatoly out of the city. He could then leave for Israel via Moldova and Romania.
After a few days, Anatoly and his wife received the liberating news that they got the official permission to go to Israel! His grandchildren and great-grandchildren had been urging them for years: "Grandpa, grandma – come! We love you so much, and we want you to be with us!" Last year, that time had finally come and the family celebrated Passover in Israel with four generations.
See, I will bring them from the land of the north
and gather them from the ends of the earth.
Among them will be the blind and the lame,
expectant mothers and women in labor;
a great throng will return.
They will come with weeping;
they will pray as I bring them back.
I will lead them beside streams of water
on a level path where they will not stumble,
because I am Israel's father,
and Ephraim is my firstborn son.

Jeremiah 31:8-9
Radiant faces
"I can't get enough of looking at my parents' beaming faces, seeing the sparkle in their shining eyes! They want to live!", Ludmila said. Last month, Anemone Rüger and Alina Gryadchenko visited the Nekrasov family, in northern Israel, close to the Lebanon border. See how Anatoly is beaming: this is what it feels like for a Jew to be allowed to live in Israel.