Activities
Webinar Singapore
Join this event hosted by Christians for Israel Singapore:
The Meaning of Purim with Rabbi Mordechai Abergel –
Chief Rabbi – Jewish Community of Singapore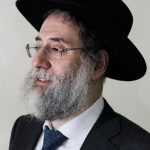 Date: Monday 15 February 2021
Time: 7.30-9.00 PM (SGT)
with special appearance of Rev. Alvaro Sànchez
Please register in advance for this webinar by clicking the link below. Before the Webinar you will receive the link to access the webinar in your inbox.
About Rabbi Mordechai Abergel

Rabbi Mordechai Abergel was born in France in 1968 and grew up in Belgium. He left Belgium at 17 to study at the Rabbinical College in Morristown, New Jersey. From 1989 to 1990 he spent time in Miami as an emissary where he led outreach activities geared towards the Sephardic communities of Greater Miami.
In 1992 Rabbi Abergel received his smicha at the Tomchei Tmimim Rabbinical Seminary in Brooklyn, New York , where the world headquarters of the Chabad Lubavitch movement is also located.
Then, in 1994, Rabbi Abergel and his wife Simcha joined us in Singapore, excited to bring youthful energy and new ideas to this long established community. The Rabbi is constantly involved in promoting Jewish education and Jewish living, topics close to his heart. He is currently the principal of the Talmud Torah Hebrew School.
The Rabbi lectures widely on Judaism in Singapore, which he feels is essential to provide exposure and understanding of our views towards issues facing the world today. In whatever forum, the Rabbi comes across eloquently – he speaks Hebrew, English, Yiddish, French and Arabic. Being at a birthday with the Rabbi takes a long time because he insists on saying "happy birthday" in all 5 languages!
About Alvaro Sànchez
Guitarist and Harpist Maestro Alvaro Sanchez has wowed audiences worldwide with the sheer poetry of his musicianship!
His life and music was transformed at his encounter with Jesus who called and prepared him as a worship minister. Alvaro Sanchez was ordained at the Dallas TX Seminar CFNI, and God's 1st mission to him: Bring the gospel to Heads of States, Dignitaries, Governors, Ministers and Royalties, and encouraging revival to the Church in the Worship arena all over.
Rev. Álvaro, graduated with honors from the University of Colombia and continued studies at the Sorbonne in Paris, as well as in the United States.
He remembers his first solo concert in his hometown at 13, and the pride he felt when he saw tears falling down his father's face; a man he thought he could never please. Now his greatest joy is to please his Heavenly Father!!