Support Food Parcels
Aaron needs your help! | Winter Food Parcel Campaign
Dear friends of Israel and the Jewish people,
The team of Christians for Israel Ukraine regularly visits 88-year-old Aaron in Krivog Rog, a heavily polluted industrial town in eastern Ukraine. Aaron was born in 1933, and when he was 8-years old, the Nazi's invaded Ukraine.
His father was drafted by the Soviet Red Army to defend the country. Aaron, his mother, and his younger brother were constantly on the move, trying to escape from the horrors of the war. Killing squads of the German SS, often assisted by local Ukrainian police, went town by town and forced Jewish families to leave their homes and line up at previously dug out mass graves to be shot. An estimated 1,700,000 Ukrainian Jews were killed.
Aaron, his mother and younger brother, were moving toward the far east of the Former Soviet Union together with thousands of panicking refugees. During this time, Aaron's younger brother died, and so did his father while serving in the army. Aaron and his mother barely survived the war. Later in life, Aaron became a physics teacher.
Like Aaron, there are many other poor Jewish elderly who have to survive on a small pension. We cannot erase what happened to them in the past, but we can show them love today. Every time Aaron receives a food parcel, it is a festive day for him. He is not forgotten!
Will you join us (again) in making the food parcel campaign a great blessing this winter? We buy the products cheaply at a local wholesaler, who is aware of what we do for charity. You can complete the coupon on the back or make a donation online.
Greetings on behalf of the whole team in Ukraine,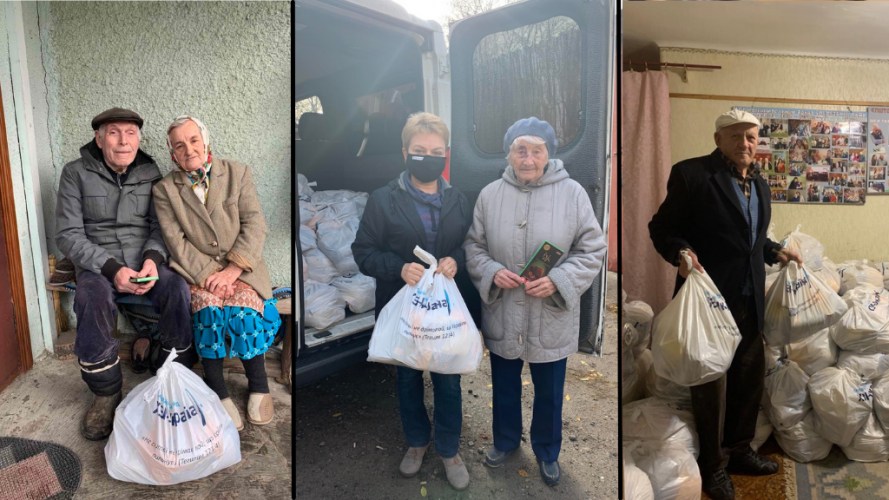 We need your help!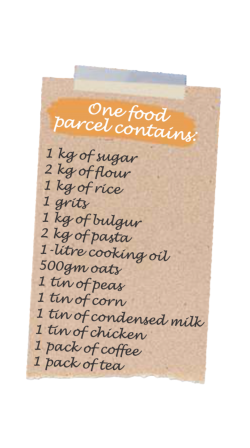 Thousands of Jewish elderly still live in great poverty in Ukraine. Like Aaron, who spends the winter alone. The food parcels provided by the Christians for Israel Ukraine team are very much necessary to make it through winter. This winter, we hope to spread
40,000 food parcels
in Ukraine to poor Jewish families and survivors of the Holocaust.
One food parcel costs € 10 or US $ 11.
Each donation for one or more foodparcels makes a difference!
"For I was hungry, and you gave me something to eat, I was thirsty, and you gave me something to drink."
Matthew 25:35
Donate in €
Donate in US $