Support Aliyah
Welcome Home! – First Home Update
In that day the Lord will thresh from the flowing Euphrates to the Wadi of Egypt, and you, Israel, will be gathered up one by one. Isaiah 27:12
Seven families from Ukraine brought to Israel with the special Christians for Israel flight on 14th September 2021 had already overcome their quarantine and were hosted in different kibbutzim in their First Home in the Homeland in the North and South. Kibbutz coordinators gave them their warm and friendly welcome as they always do.
Have a look at how the families are living now.
"…Preparing for the very intensive ulpan…"
The Kramarenkos from Odessa have been planning aliyah for several years and now thanks to your support they are at home in kibbutz Revivim! Amina has already made new friends, Pavel and Anzhelika are preparing for the very intensive ulpan.
"Making aliyah from Kharkov and still can't believe they did it…"
Another family from the South of Israel is Andrei Gerasimov and his wife Yulia Greshnova. They made aliyah from Kharkov and still can't believe they did it. They are very happy about their new dwelling and feel at ease in Mashabei Sade.
Vladislav Minyailovskii, his wife Valentina and their daughter Alisa are also enjoying their new life but in the North, where in Jordan Valley their kibbutz Beit Zera is located. Coordinator Natalia supports them and helps them make their first steps in Israel.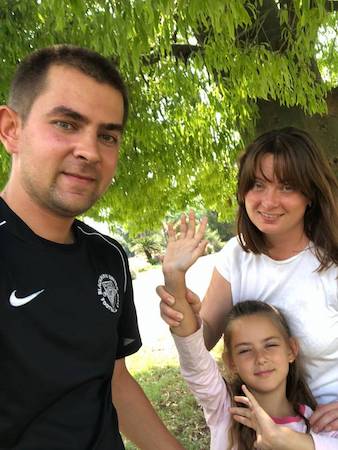 Natalia Volovich also accommodated the Rudik family in kibbutz Ashdot Yakov Meuhad. They have fallen in love with that place at first sight. They enjoy nature, their flat and socializing with their new neighbors. The Rudik family is quickly getting used to their new home in kibbutz Ashdot Yakov under Natalia's supervision. And being cared for in this way matters much for them.
Egor Pismichenko made aliyah after his brother's and sister's. He is very proud of being a Jew. Therefore, his wife Alena and their daughters Angelina and Emilia are following him on this path. They have started their new life in Israel in kibbutz Merhavia, the very place where Egor's brother lived.
Yurii Dzyubanii and his wife Lyudmila have made aliyah with their daughters Olga and Vera from Odessa and now they also live in kibbutz Merhavia.
Alena Goncharova has been waiting for this day since her childhood. She met her uncle in Israel to her grandfather's desire. Their meeting took place in Hinanit in the North of Holy Land.
Thanks to you the stories like these have been coming true, already for 25 years!
Please support the "First Home in the Homeland" Project. Any amount is welcome! Assisting a family in the "First Home" program costs € 230 euro / US $ 250 a month.
Support in €
Support in US $